Getting IN the Grass
MissB
Posts
Joined: Apr 2010
04-24-2010 01:56:11
I have a NEW and easy way to blend your extracted images into a grassy expanse. All you need is your eraser tool. I've written instructions for both PS and PSP users. Yay, me! :D
First, lets put our "model" on the background. This is Logan. (Isn't he just the cutest? He is Morgan's twin brother and looks just like his daddy :))
He looks like he's floating on top of the grass. Your mission, should you choose to accept it, is to actually place your model IN the grass. (This background was made from a combination of papers from Lori Davison's "A Pioneer Story" and "Bunnies, Bees and the Bird's Big Balloon" kits.)
Now I could just cover him up with grass elements but it just doesn't look very natural. Plus, that would make this blog post really short. ;)
Another reason the erasing method works so well is that you actually see the background peeking through so you know the colors of the grass are going to be a perfect match.
Let's select our eraser tool.
PSP Users:
This is what your eraser tool looks like –

PS Users:
This is what your eraser tool looks like –

I'm going to be loading these grass elements into my brush selection individually.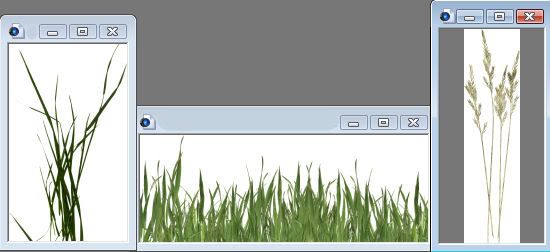 They are from – left to right: Maya – "Country Garden" – Birgit Kerr's – "My Mother's Garden" and also from Birgit Kerr – "Urban Summer" .
Let's lock and load our elements and transform them into fabulous grass brushes. Here's how we do it.
PSP Users:
1) Open your grass element.
2) Open your Brush previews.
3) Click on the "Create Brush Tip" button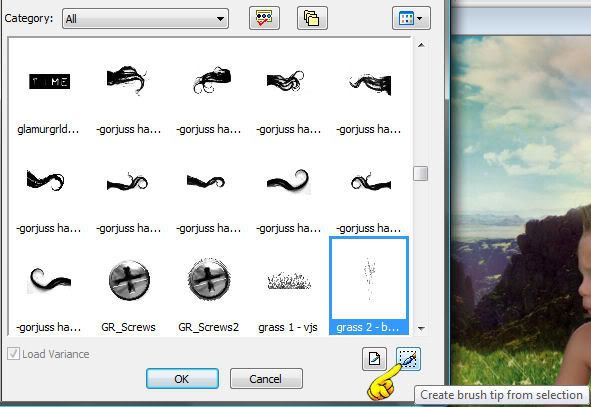 I always name mine for crediting purposes, but it's up to you.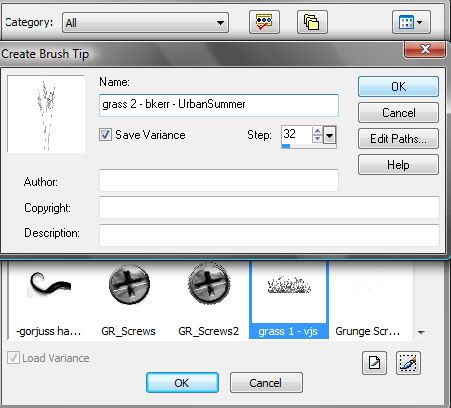 *Tip* ~ Be sure to name the brush what it is so you can find it easily later on. Such as: Grass – 1 – Designer's Name. If you name your brush tip after the designer, you might not remember who made it or where it is. Or is that just me? Heh
PS Users:
1) Open your element.
2) Click "Ctrl + Enter" on the element's layer.
2) Open your brush menu.
3) Click on "New Brush Preset "
4) Click on "Load"
We're ready to start. Duplicate your extracted model and hide it, just in case you make any boo-boos, you still have your original extracted image.
And …. ERASE!
After uploading the first brush I'm going to take my eraser tool and click (tap) inside Logan's legs to erase small, grass shaped sections of Logan's legs. Follow along the natural curves of the body. I have the opacity of my eraser tool set @ 55%.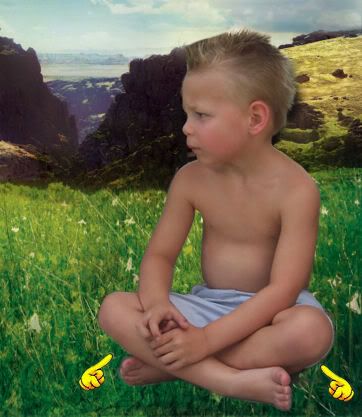 I've drawn a box to show you what I've erased so far with my first brush.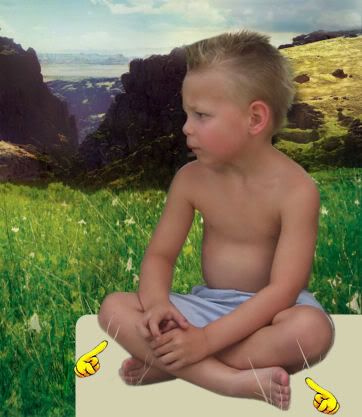 Load your additional grass elements into your brush selections and continue erasing. Here's what I've erased.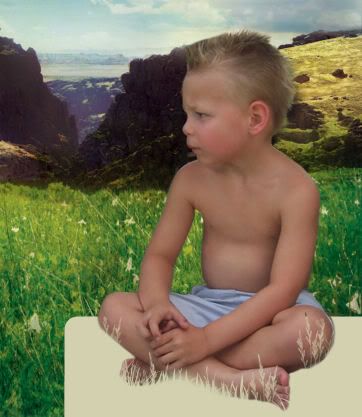 *Important tip*
Do NOT erase in a straight line because that just doesn't look natural. Follow the lines in your model's body.
To finish this off, I've added a some shadows and set the blend mode to burn and lowered the opacity to 34% just to blend Logan into the grass a tiny bit more.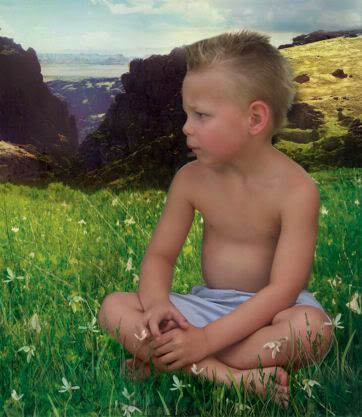 Easy, right? I hope you enjoyed this and I really hope it's helpful to someone.
---