Inspiring sites
Tumble Fish Studio
Posts
Joined: Mar 2010
10-20-2012 13:41:57
Hi Hybrid people!

(am I losing my mind or did this thread used to be called Hybrid? lol! The term Hybrid always confused me anyway and I was probably seeing things and just losing my mind again)


Okay, well . . . Hi Cut & Paste people! We all run across interesting sites, publications, and venues for all kinds of work. I thought maybe we could start collecting some of those sites having to do with Hybrid, Cut & Paste, and other more non-digital work.
Here is one I'd like to share . . .
A few weeks ago Renee (aka nayski) brought this site to my attention:
http://kolajmagazine.com/artistdirectory/Kolaj
magazine. It's interesting how this Canadian magazine is set up. The magazine comes to you digitally or in print, whichever you choose or both. There is an Artist Directory which you can pay to be in and it talks about that
http://kolajmagazine.com/artistdirectory/about-the-artist-directoryhere
. It's new as they are only selling Issues 1 and 2 right now. I believe they do include some digital work, but I think their main thrust is traditional cut and paste collage.
If you wanted to submit work, I believe you have to be in their Artist Directory but it was a little confusing and I could be wrong about that. Being in the directory does not insure that your work will be published in the magazine, but once you are in the directory you can submit . . . I think. Regardless of that, the gallery is very cool to look through and I do see some artists whose work I've seen in books. It's worth a peek and very different from what most of us see in other popular magazines and internet galleries.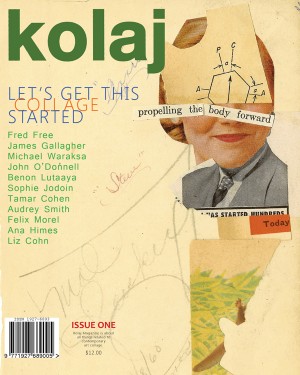 1 to 14 of 14
---