Poor Relationship Skills
Clementine
Posts
Joined: Apr 2010
09-20-2010 12:16:23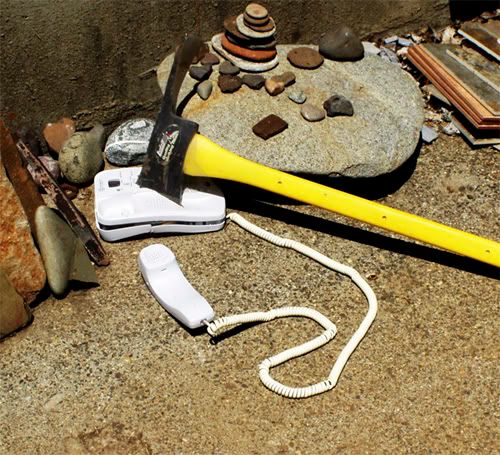 Well....I have a poor relationship with telephones. Despise is a strong word., but.. I think i have to use it.
They ring. they demand. they steal time. they infuriate me.
Sometimes other people have nothing else to do but sit on the phone and jabber. Well i don't have time for that. I don't even have time to take a crap let alone sit on the damn phone for an hour talking about nothing!
I know people... a couple people actually who drive me insane when it comes to telephone nonsense. .
I used to think it was polite to at least say "uh huh".. or "oh?" even while i rolled my eyes and felt pissy. But to be able to insert a few "uh huhs" and "ohs" in the right space requires a certain amount of attention which is annoying as hell because it means i'm still being held hostage.
I started noticing that with certain people no response was even necessary. In fact it felt like my little "uh huhs" and "ohs" were getting in their way.. slowing them down. making them stall for a spilt second and they didn't seem to appreciate it. So I tested them a couple times by not saying one freaking little word the whole time. And yep it was true. they didn't need a response. Nope. they just jabber. So I wonder....if they don't need a response.. if they're THAT out of touch with the person they supposedly are talking TO (not with) ...then why bother contacting another human? Why not just go talk to a tree or a wall?
These days... with *some* people, I can and DO hold the phone away from my ear at a distance where i'm just barely able to hear their little blabbity blab voice so i can tell when they might be finished... and go ahead and put my focus elsewhere. but it's still so annoying to be tethered to them.
It occurred to me that this one particular person wouldn't even notice if i left and went and did something and then came back. I thought wow., i could probably go take a bath and come back and she wouldn't even notice i was gone. I tried it once. No I didn't go take a bath... but I listened to make sure she was on a good roll and then i put the phone down and did something real quick and came back. Sure enough she was still yakking a mile a minute and didn't even know I had ran over and did something.
Remember I told you how my mom was calling me and bugging me about the embroidered Jesus picture? I could not begin to tell you the extent of it.
She called me many times a day for awhile.. just to punish me i suppose. One day it was 6 times. The record for one day was 10 calls. Now you may wonder why i even answered the phone.
A lot of times I didn't. But when I was trying to stay away from her (not go see her) I felt guilty and figured the least I could do was allow her access to me on the phone even if it made me miserable.
Ok so between the jabber mouth people and my insistent mother I started entertaining a fantasy in my head while I was on the phone with them. I saw myself throwing the telephone into the pond out in my yard. It's a big pond and it's about 12 feet deep in the middle. The fanatasy grew stronger and sometimes i wanted to do it so bad. Well one day my mom really worked me over and i had reached the end of my endurance. I hung up the phone and i was bawling and had lost all impulse control. I cried my way out the door with the phone in my hand and hurled it into the pond.
Then still crying I went back in and got the rest of the set up for the phone. the cradle. It had caller I.D. and an answering machine and everything. I took it out and hurled it into the pond too.
Ahhhh.... finally... blissfully phoneless. But my freinds would not have it! They thought I was woefully phoneless instead of blissfully phoneless. . I got 4 phones from 4 different people.
But it wasn't long before the phone fantasies started up again. And having acted on it once made it easier to do again. The next time I got fed up I took the phone out and put an ax through it. I got so much satisfaction from doing that. I loved seeing the phone with an ax through it. So i didn't throw it away. I left it next to my front steps for months., and i enjoyed walking by it every time I came and went.
Finally Tim Hohs mentioned to me that perhaps I should not keep it there. that visitors might come to a wrong conclusion about me. like I was a crazy violent nut case or something. As an example he mentioned the UPS man who had delivered my cowboy boots. hmmmm. So i got rid of it.
But i was not finished with phone mayhem. I plunked two more in the garbage can. The only reason I stopped getting rid of phones was because my freinds and family were giving them to me, and it was kind of rude to destroy them. I needed to find a healthy way to deal with the telephone.
1 to 25 of 25
---